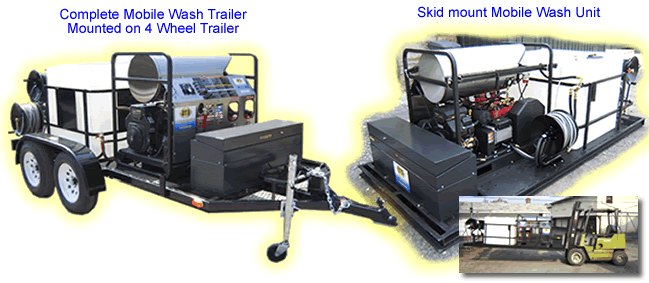 Complete Trailer Unit | Skid unit only
ETS TRAILERS ARE EASILY CUSTOMIZED TO SUITE YOUR CLEANING NEEDS!
CALL 610-583-7657 TO SPEAK TO AN ETS REP TODAY!
Trailer Diagram | Options | Photos | Specs
The perfect trailer for mobile wash operations!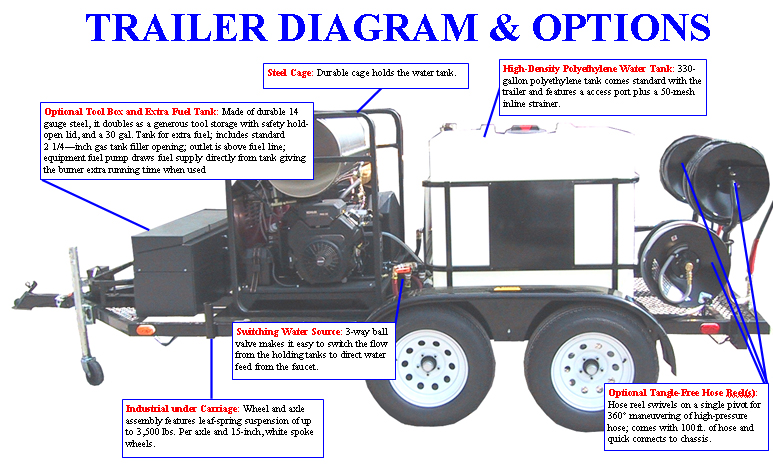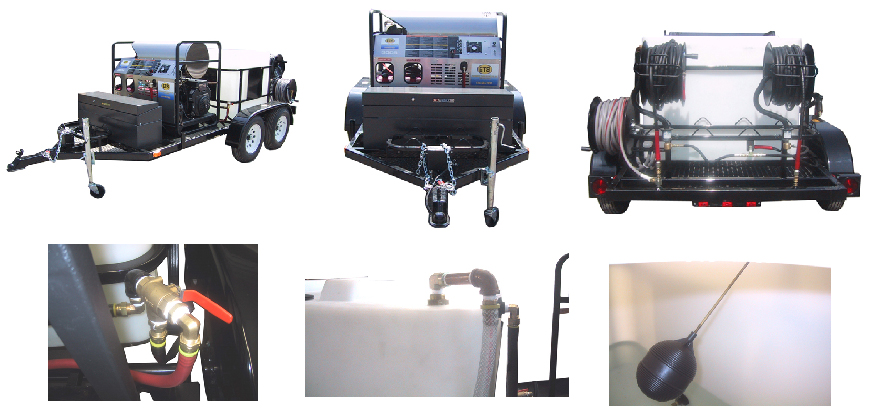 Steel Cage: Durable cage holds the water tank.
Optional Tangle-Free Hose Reel: Hose reel swivels on a single pivot for 360° maneuvering of high-pressure hose; comes with 100 ft. of hose and quick connects to chassis.
Industrial under Carriage: Wheel and axle assembly features leaf-spring suspension of up to 3,500 lbs. Per axle and 15-inch, white spoke wheels.
High-Density Polyethylene Water Tank: 330-gallon polyethylene tank comes standard with the trailer and features a access port plus a 50-mesh inline strainer.
Switching Water Source: 3-way ball valve makes it easy to switch the flow from the holding tanks to direct water feed from the faucet.
Optional Tool Box and Extra Fuel Tank: Made of durable 14 gauge steel, it doubles as a generous tool storage with safety hold-open lid, and a 30 gal. Tank for extra fuel; includes standard 2 1/4—inch gas tank filler opening; outlet is above fuel line; equipment fuel pump draws fuel supply directly from tank giving the burner extra running time when used.

Electric Breakaway Brake Kit:
Provides added protection against trailer disconnect during transit; includes sealed 12V battery.

Hose Reels:
Single-pivot reels keep both garden and high-pressure hose from tangling as well as out of the way from being run over or damaged. Click here for hose reel brochure!

Fuel Tank and Tool Box:
Includes extra 30 or 50 gal. Fuel tank plus a durable, easy-to-access tool box at the front of the trailer.

Skid Cover:
Provides weather protection for skid-mounted high-pressure washers.
LOAD CAPACITY:
6000 lbs.
WATER TANK:
330 gallon high density polyethylene
AXLE(S):
Tandem axles, 3500 lbs. Per axle
WHEELS:
14" white spoke wheels, ST205/75R14C Tires
JACK:
Swivel Jack with Castor Foot
JACK CAPACITY:
1000 lbs.
BALL COUPLER:
2 5/16" BullDog Type Hitch
PAINT PROTECTION:
Powder Coat, Epoxy, Gloss Black finish
SAFETY CHAINS:
Dual 5/16"
LIGHTING:
Recessed Tail Lights, lighted license palte holder
CHASSIS:
Uni-Welded Structural Steel Box Tubing
LENGTH/WIDTH/HEIGHT:
278" x 80" x 62"
SHIPPING WEIGHT:
1980 lbs.
Click here to download .pdf file
---
Trailer Skid Unit Photos (Sample Spec Sheet)